EVENTS: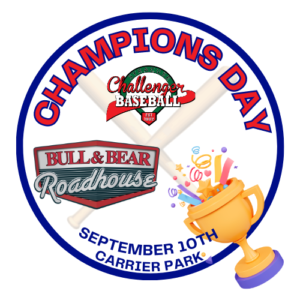 THE BULL AND BEAR ROADHOUSE CHALLENGER CHAMPIONS DAY
Sunday, September 10th at Carrier Park
Our teams will welcome back the World Series teams, hear proclamations from the Syracuse Mayor and Onondaga County Executive, mingle with VIPs, take group photos at the Syracuse Picture Booth display, enjoy a barbeque feast from Bull and Bear Roadhouse, and receive trophies from their coaches.
Because of the predicted rain on Sunday, we will not be having any baseball games. Here is how the day will go: 
12:00 Opening Ceremony – VIPs and proclamations will be made by local government officials and World Series players will be honored and receive their certificates from Little League. 
First Banquet And Trophy Presentations To Follow – Dark Blue  vs. Red 
1:15 Banquet And Trophy Presentations- Grey vs. Green 
1:45 Banquet And Trophy Presentations – Steamers (Tie Dye Orange) vs. Express (Tie Dye Green)
2:30 Banquet And Trophy Presentations – Engines (Tie Dye Blue)  vs. Diesels (Tie Dye Red)
3:00 Banquet And Trophy Presentations – Locos (Tie Dye Purple) vs. Streetcars (Tie Dye Yellow)
3:30  Banquet And Trophy Presentations – Subways (Tie Dye Navy Blue) vs. Gem Diner (Tie Dye Grey)
4:00 Banquet And Trophy Presentations – Mets  vs. Yankees 
Please wear your uniform shirts if possible.  

Bring umbrellas to take you from the park entrance to the pavilion on the right-hand side of the fields.  We will have giant tents and places to sit and tables.  The Carrier Park pavilion has men's and women's restrooms.

The cost of a player plus two guests will be picked up by the league and a donation from Bull and Bear Restaurant.  If you would like to take more than three people through the banquet line, each additional person will pay $10 to enjoy Bull and Bear Catering.  The only fees are for the banquet line – guests are welcome to watch the trophy ceremony.  

Parking and park attendance is free for everyone.  Please leave extra time for parking as some banquets will be ending and others beginning around the same time which will create some traffic in the parking lot.

Please bring a smile and your most patient selves.  We've had to reschedule this event and rework it a number of times and we may run into snafus.  It's our first time doing an event this way and we will all do our best to make sure it runs smoothly.
Last but not least please don't let the rain deter you from coming to this great event.  We have a lot of people who have worked very hard on this event.  We very much want to have this last opportunity to see our amazing players.  We hope you do everything you can to support our efforts and celebrate this amazing season one last time!